HazSim Pro Training System Has Been Used To Improve Safety For Those Working In Dangerous Environments across the U.S. since 2011.
*Current Pro customers eligible for upgrade.
Pro Systems available in limited supply.
Rugged, Effective, & Affordable
Ruggedized handheld 'HazSim' meter. Becomes over 18 different meters.
Weatherproof Long Range LAN (Internet not needed, gets things connected)
Instructor Tablet (The server, where the instructor works the magic)
Power Cords Pelican Case (included, not shown)
Confined Space Probe (not shown)
Over 18 different meters included (shown as a 5gas with Ammonia)
Ruggedized housing, touch screen (For the interactive feature)
Multi-gas – Four, ­five, or six gas meter display which includes Oxygen, Lower Explosive Limit
Carbon Monoxide, Hydrogen Sulfi­de, Hydrogen Cyanide, Chlorine, Ammonia, and more
Radiation – alpha, beta and gamma
Audible Alarms
Individual Gas Feature – Display only one gas for specific industry training
PID Package – Multi-gas meters which include PID IBUT, ch4, and CO2 in ppm
Confined Space Probe (not shown)
Improve Your Students' Situational Awareness
Interactive – know exactly where your students are at on subjects
Instructor can send questions related to evolution in real time
Student answers questions via touch screen on HazSim
Questions Package – set of questions focused on specific training areas
Customized questions (RAD, FRO, ConSpace, Meter Basics)
Alarm Edit – Ability to change the default setting where HazSim alarms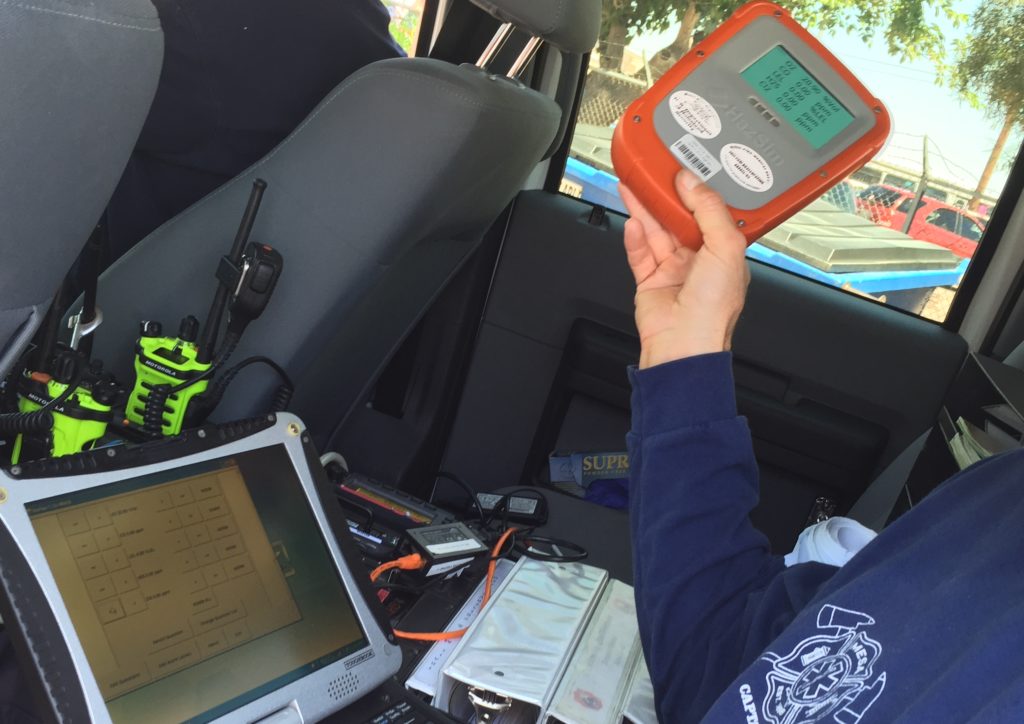 Funding And Grants Available
Pro System – Payment options available, contact us for pricing
Scalable – Additional handheld can be added for discounted price
Regional multi-unit and other price advantages offered
Purchased via UASI, HMEP, LEPC, Corporate Giving Programs, and other Fed, State and Local Grants. Contact us for assistance
Multiple Patents Granted and Pending, Sole Source Pricing
Outstanding customer and warranty support – we need you out training!
Save on repairs by NOT over using front line equipment in training
Can be used in field and classroom training to reinforce basics
*Current HazSim Pro customers eligible for upgrade. Contact us for info.
Detailed video on setting up the system and how to use
HazSim is a state of the art training tool, it equips your HazMat teams and first responders with a realistic situational learning experience.  HazSim simulates Chemical and Radioactive (CBRNE) environments.  This hands-on, realistic, and interactive experience increases the effectiveness of your training for HazMat, USAR, Confined Space – Anywhere portable detection devices would be used to monitor the environment.
HazSim Pro Refurbished - Available.
HazSim Pro Systems available in limited supply Now. Contact us for pricing and more details.